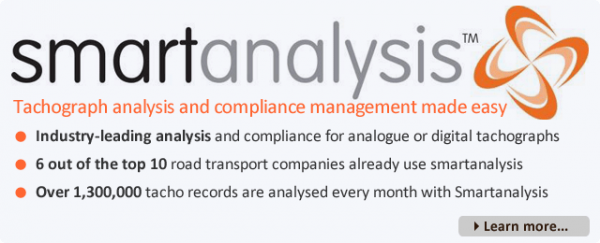 Are you tachograph compliant? Find out how Smartanalysis for Tachograph Charts can help you comply with Driver's Hours and the Working Time Directive…
What is Smartanalysis?
Smartanalysis is the industry-leading tachograph analysis and compliance management software.
Smartanalysis is used by many of the UK's leading transport operators to safeguard compliance with drivers' hours and working time regulations and much more.
Smartanalysis eliminates the burden of managing and controlling the process for safeguarding your compliance, leaving you with more time to focus on your business.
How Smartanalysis works
Smartanalysis is a cloud based tachograph analysis software service that can be accessed securely wherever you have an internet connection. (FREE REGISTRATION HERE)
You send us your tachograph data. We store the data on our secure servers and make the data, analysis, reports and tools available for you to use on the Smartanalysis web site. We have over 100 standard reports for you to choose from and they can be sent to straight to your email whenever you need them.
Get started by creating your Smartanalysis account and we'll also supply you with Smartanalysis 'digital downloader' software to install on a PC in each of your depots. We can also supply you with scanners, smartcard readers and download devices to transfer your analogue and digital tachograph data to Smartanalysis in our shop.
Key facts about Smartanalysis
It is used to analyse over 1,300,000 tachograph records every month.
It is deployed in over 12,000 locations throughout the UK and Europe by over 20,000 registered users.
6 out of the top 10 road transport companies by turnover (FY 2010) use Smartanalysis.
It is suitable for all HGV and PCV fleets – large and small.
It provides seamless analysis of both analogue and digital tachograph data.
It is cost effective. You only pay for the driver data you submit, no charge for VU downloads.
Your data is secure yet accessible any time, any place by authorised members of your staff.
Over 100 standard reports are available online or emailed to you.
Smartanalysis includes powerful tools to manage your infringements down.
It is fully supported and will ensure your compliance now and in the future by accommodating changes in legislation and tachograph hardware.