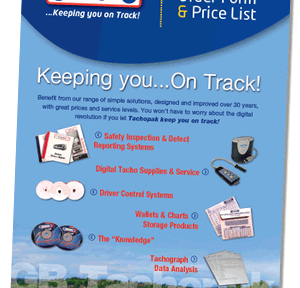 GB Tachopak are pleased to announce the release of our new price list
valid from 1st February.
» Download and Print: (in PDF Format)
With the growing popularity and use of digital tachographs, we have reduced the price of some of our digital range including Digirolls which now start at just £4.20 for a pack of 3.
We are also delighted to have held the price for our most popular and traditional products: Analogue Tachograph Charts, Maintenance Pads and Defect Report Pads.
Please see our tachograph price list for our full range of products and new prices.
Easy Ways to Order Tachograph Products
Placing orders with GB Tachopak couldn't be easier. You can place orders in many different ways. Regular customers may be eligible for a Credit Account, please contact us for advice.
Website: using SSL secure payments www.tachopak.co.uk
E-Mail: For existing account holders please e-mail your order to: sales @ tachopak.co.uk
Phone 01472 210102: Call our sale team.
Please have your credit card and order details ready.
Offline by Fax: 01472 210098
Print out and complete this order form/price list with your credit card details then fax your order to the above number. We despatch orders the same day if received before 3pm.
Prices exclude carriage and VAT | Orders over £50 are carriage free.
Personalised Products: For larger orders we are able to personalise many product lines with your company name, logo, etc. Please call for more details.
To place an order, please call our sales team on 01472 210102.